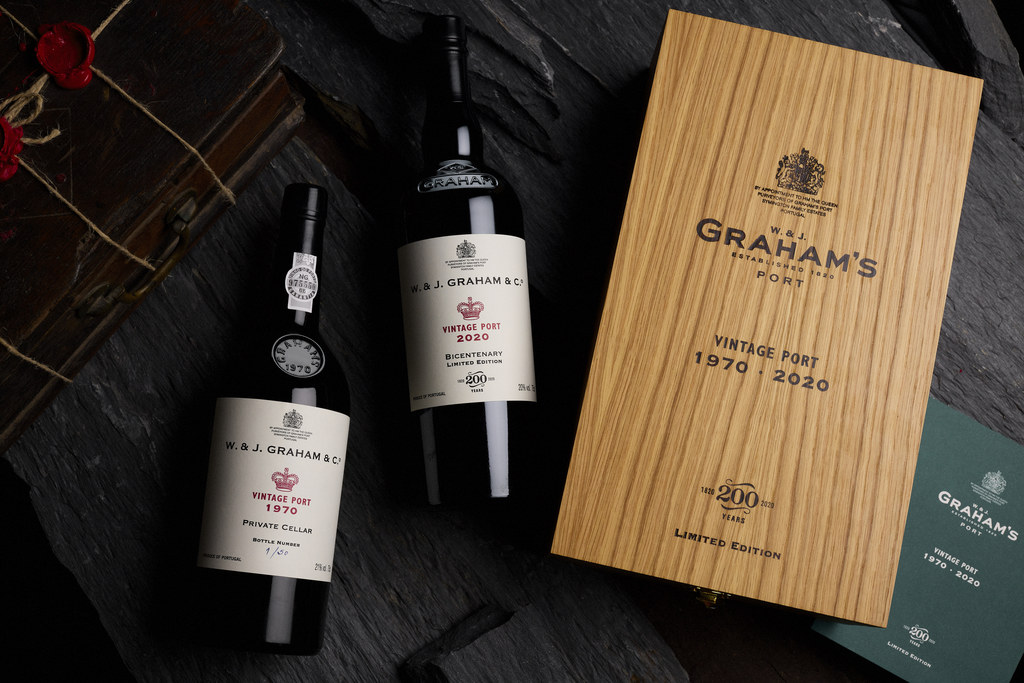 Graham's launches its first NFT with 1970 & 2020 Vintage Ports
---
Our family has chosen to release 50 limited edition cases (2 x 75cl) containing the iconic Graham's 1970 Vintage Port and the special Graham's 2020 Bicentenary Edition Vintage Port. Each case will be released with a Non-Fungible Token (NFT) which include a series of unique benefits and an exclusive experience.
You can see the video created for the launch here.
1970 was the year in which our family acquired Graham's and produced our first classic Vintage Port from this historic port house. 2020 was another milestone as it marked the bicentenary of Graham's founding and, to celebrate, we bottled a special Graham's 2020 Bicentenary Edition Vintage Port. Separated by half a century, the 1970 and 2020 Vintage Ports mark 50 years of Symington family stewardship of Graham's – continuing a commitment to the pursuit of excellence that has spanned 200 years.
44 of the limited edition cases of Graham's 1970 & 2020 Vintage Port will be sold exclusively through the Graham's Lodge in Vila Nova de Gaia from July 24th. Each case will be sold with an NFT which is hosted on the Club dVIN platform. This unique digital asset provides the owner with a guarantee of authenticity of the wine and entitles them to a series of benefits. This includes an allocation for a case of the next classic Graham's Vintage Port release, and six free guided tours & tastings at the Graham's Lodge, which the NFT holder can grant to whoever tastes the Vintage Ports with them – once the bottles have been opened and the NFTs burned. Owners can easily access their NFT on the Club dVIN platform by tapping their phone on the anti-counterfeit NFC tags attached to each bottle.
Three of the 44 cases sold through the Graham's Lodge will be offered with an additional exclusive experience of a private day visit (for 4 people) to Graham's principal estate in the Douro Valley – Quinta dos Malvedos. The day will include a guided tour of the vineyards and winery followed by a tutored tasting and lunch at the estate house, which is not open to the public. The price of this case with an NFT entitling the holder to both the benefits and exclusive experience is €3,000.
Graham's will also drop five cases of 1970 & 2020 Vintage Port on the fine wine NFT platform, WineChain, in the coming months (additional benefits and pricing tbc). The last remaining case will be donated to the 2023 Golden Vines Online Auction which supports the Gérard Basset Foundation.
"We are very excited about launching our first ever NFT with the release of this special case of Graham's 1970 & 2020 Vintage Port. These two Vintage Ports are not only of exceptional quality and represent the pinnacle of what we make in the Douro, but they hold special significance for our family too. By attaching an NFT to each case and adding a series of benefits, we aim to build a relationship with those that purchase these rare bottles and provide them with a digital guarantee of authenticity and provenance should they wish to sell them in the future. Given Vintage Port's ability to age over decades, we believe that NFT technology is particularly suited for this wine, creating a unique opportunity for both fine wine enthusiasts and us as the producer. While the 1970 bottles are likely to be enjoyed soon, the 2020 bottles will probably be cellared for years to come, extending the lifetime of the NFT."
– Harry Symington, Communications & Vintage Port Senior Manager,
Symington Family Estates