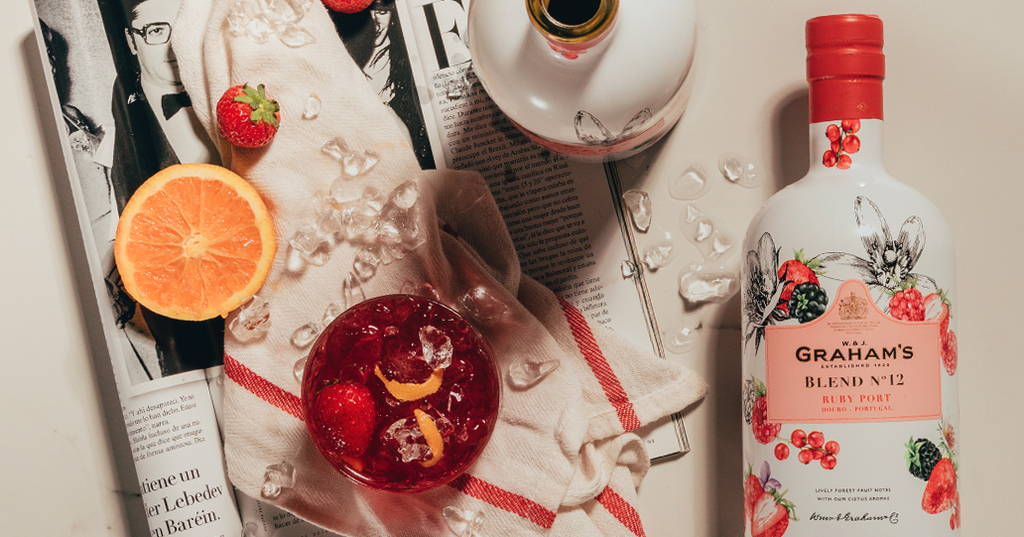 Graham's Launches Blend Nº12 Ruby Port
---
Designed to appeal to a new audience of port drinkers and the mixology scene, Blend Nº12 is the latest release in the Graham's "Blend Series".
Graham's Port has announced an innovative new ruby port, Blend Nº12, made predominately with the famous Touriga Nacional variety, which is specifically intended for the bar scene and non-traditional port drinkers.
Blend Nº12 takes its name from the fact that the high-altitude grapes are hand-picked in the middle of the night to ensure maximum freshness. These grapes are then cold fermented to preserve their primary aromas and intensity. Unlike most ruby-style ports, Blend Nº12 was not aged in oak and is bottled young to maximise concentration and flavour.
This release follows the successful launch of Blend Nº5 White Port in 2019 and marks an extension of the Graham's Port "Blend Series", designed to challenge assumptions about how port is typically consumed and attract a new audience of port drinkers. Initially launched in the on-trade, Blend Nº5 has successfully reached establishments which would not typically champion port – with a unique flavour profile and medium dry style lending itself to long serves and cocktails. High profile listings for Blend Nº5 include Idris Elba's The Parrot, Aqua Shard, Sexy Fish and the Electric Star group.
Both bottles are decorated with hand-drawn images by renowned Portuguese fashion illustrator António Soares. The Blend Nº12 design contains fruits that reflect the wine's flavours - raspberries, blackberries and strawberries - as well as the gum cistus, a famous Douro flower.
"We are excited to launch Blend Nº12 as we believe that ruby port is a very versatile category that has not yet been fully explored. Port has an original and interesting profile that lends itself to creativity and experimentation – both at home and in the bar scene. At 19%, port is less alcoholic than many spirits and fits with the lower ABV trend, especially in long serves with tonic or other mixers. It has been great to see people explore the Graham's range after discovering port through the Blend Nº5 White Port, often in a port & tonic. We are confident that Blend Nº12 will also resonate with people who don't typically drink port – be it as a delicious and approachable straight serve or mixed in a long serve. We have been working with top mixologists to create some exciting drinks with Blend Nº12 and we're looking forward to seeing people's reactions."
Vicky Symington, Graham's Brand Manager and member of the 5th generation of the Symington family.
Tasting note:
Fresh and intense aromas with notes of raspberry, strawberry and mountain herbs. Lively and concentrated on the palate, it has a refreshing acidity with an aftertaste of spice and pepper.
Availability:
Due to Blend N 12's small initial production, it is currently available in limited volumes. In the UK, Graham's Blend Nº5 White Port is available in Waitrose, John Lewis, Harvey Nichols, Master of Malt and The Whisky Exchange – as well as a range of bars and restaurants.