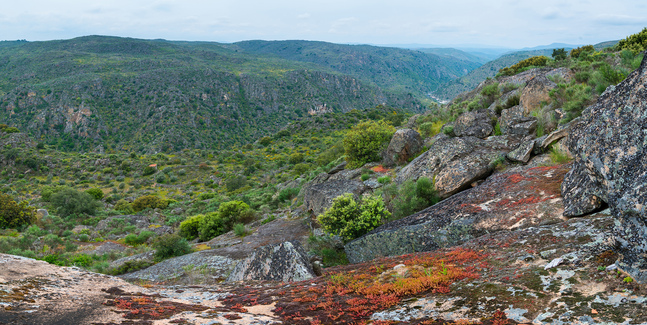 Environmental partnership with Rewilding Portugal
---
As part of Symington Family Estates' ongoing commitment to supporting social and environmental causes, we have agreed a long-term collaboration with Rewilding Portugal. The partnership builds on our current sustainability work which is helping to contribute to a positive future for the Douro region.
Rewilding Portugal is a not-for-profit organisation implementing a bold conservation strategy to improve biodiversity and support the regeneration of nature in the Greater Côa Valley, including the recovery of habitat and prey for keystone species such as wolves, the Iberian lynx, deer, and various birds of prey. A range of conservation initiatives are focused on reinforcing a 120,000-hectare wildlife corridor between the Malcata mountain range and the Douro Valley.
The partnership has three focus areas:
1. Supporting Rewilding Portugal's activity to support the development of businesses and social enterprises whose activity supports the conservation of the natural environment;
2. Implementing rewilding practices on Symington estates;
3. Providing Symington employees with opportunities to volunteer with Rewilding Portugal.
Financial support for Rewilding Portugal will be provided by the newly launched Symington Impact Fund, which was announced in January 2020 with an initial pledge of €1 million Euros to provide long-term funding for organisations and causes that are working on positive solutions to social and environmental issues in the Douro, Porto and Alentejo regions.
"Rewilding Portugal are natural partners for us – they are committed to regenerating nature on degraded or abandoned land in the north of Portugal and their model involves boosting the local economy by developing nature-based enterprises that work to protect the conservation efforts. We are deeply concerned by the overlapping environmental challenges that the world faces today, and we are committed to doing what we can to support healthy ecosystems and contribute to a positive future for the communities where we work."
Johnny Symington, Chairman - Symington Family Estates
About Rewilding Portugal
Rewilding is large-scale conservation aimed at restoring and protecting natural processes and core wilderness areas, providing connectivity between such areas, and protecting apex predators and keystone species.
Rewilding Portugal
is a not-for-profit organisation dedicated to nature conservation through rewilding measures in Western Iberia. The team's focus is the Greater Côa Valley – an area running from the Douro River to the Serra da Malcata, an important wildlife corridor for many species. Rewilding Portugal is a partner of
Rewilding Europe
, an NGO working across 17 European countries, based in the Netherlands.
Rewilding Portugal is funded by the European Union via the LIFE Programme (the EU's funding instrument for the environment and climate action) and the Endangered Landscapes Programme (a Cambridge University initiative supported by Arcadia Foundation).