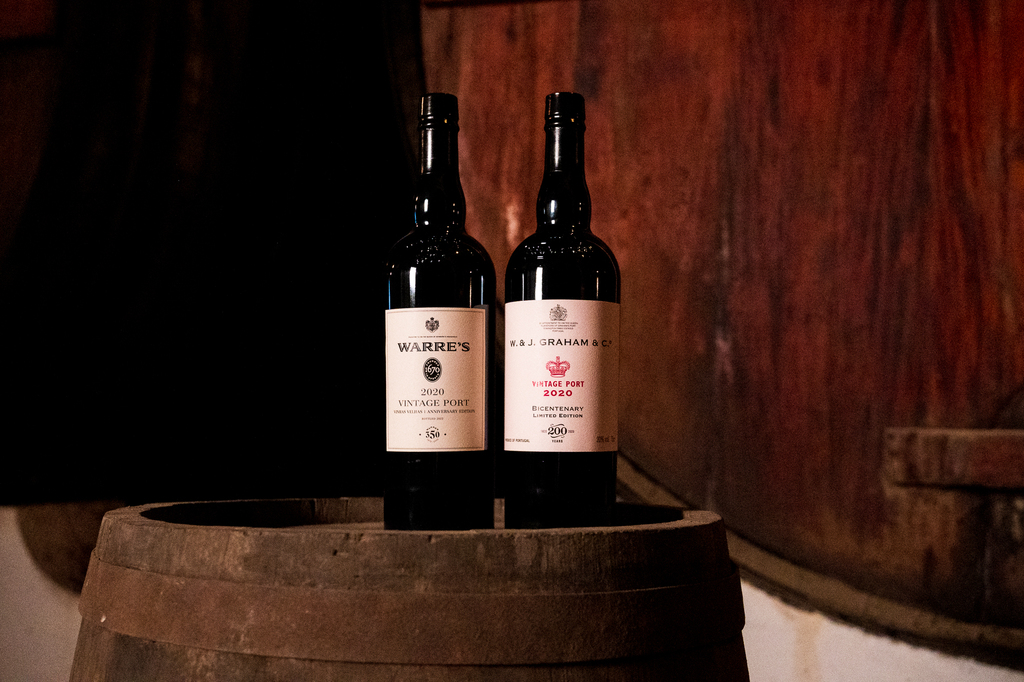 The Symington family launch anniversary limited edition Graham & Warre 2020 Vintage Ports
---
The 2020 vintage was the smallest harvest this century and produced incredibly concentrated, well-structured, dark wines in very low quantities – with the most outstanding wines originating from the Cima Corgo sub-region of the Douro.
We have chosen to do an exceptional bottling and limited release of two special edition Vintage Ports from Graham's and Warre's – drawn exclusively from a few of the best performing parcels from their estates in the Cima Corgo. These special Vintage Ports mark the historic milestones in 2020 of Graham's 200th anniversary and Warre's 350th anniversary.
Such was the quality in the Cima Corgo, that we have also chosen to bottle and release a small quantity of Dow's Quinta do Bomfim Vintage Port.
Video: Charles Symington on the 2020 Vintage Ports
---
In 2020, the Douro experienced the hottest July on record, with temperatures recorded at 3.5°C above the average. The region saw heat waves in June, August, and September which registered multi-day heat spikes above the 30-year average maximum temperatures. As a result, yields were substantially reduced compared to our July forecasts – around 40% down at some of our estates.
The harvest itself was unlike any other in recent memory. Grape varieties that usually ripen sequentially needed to be picked at the same time – most noticeably, the Touriga Nacional with the typically late- ripening Touriga Franca. Drawing on our family's multi-generational knowledge of our estates, we adapted to the conditions and harvested the grapes with precision. We picked parcels by their altitude and cooler-facing aspects, and co-fermented varieties together.
After reviewing the top wines from our finest estates across the Douro, it was clear that the Cima Corgo produced wines of extraordinary quality in minute quantities. We have therefore decided to do an exceptional bottling of two limited edition Vintage Ports from Graham's and Warre's – celebrating their respective 200th and 350th anniversaries in 2020.
GRAHAM'S 2020 VINTAGE PORT – BICENTENARY EDITION
Graham's 2020 Vintage Port is drawn from high altitude and north-west facing vines across three of Graham's four estates – Quinta dos Malvedos (55%), Quinta da Vila Velha (25%), & Quinta do Tua (20%).
This Vintage Port is a unique blend of co-fermented Touriga Nacional & Touriga Franca | co-fermented Sousão & Touriga Nacional (from the prized Stone Terraces at Malvedos) | Old mixed vines (field blend) | Alicante Bouschet.
The result is an extraordinarily opulent, intense, and fresh Vintage Port. While it has the classic Graham's hallmarks, the wine is marked by a unique aromatic complexity and beautifully layered fruit.
Limited 2022 En Primeur Release: 3,000 bottles (75cl)
The wine will be available in a special commemorative edition wooden case of 3 x 75cl, with bottles carrying the traditional Graham's Vintage Port label used for iconic 20th century vintages such as the 1963 & 1970.
WARRE'S 2020 VINHAS VELHAS VINTAGE PORT – 350 ANNIVERSARY EDITION
Warre's 2020 Vinhas Velhas Vintage Port is made exclusively from the deep-rooted, horse-ploughed, 80 to 100-year-old mixed vines (field blend) at two of Warre's estates: Quinta da Cavadinha (53%) and Quinta do Retiro (47%).
These magnificent old vines produced just 380g per vine at Cavadinha and 240g per vine at Retiro. It took three vines to produce one bottle of this Vintage Port – typically it requires just one vine. The cooler aspect of these two estates were of great benefit in 2020 and the old vines were incredibly resilient.
This is the first time we have produced a Warre's Vintage Port exclusively from the old vines at two of our estates. The wine is intensely fruit-driven with unparalleled concentration and elegance that belies the conditions of the year.
Limited 2022 En Primeur Release: 2,400 bottles (75cl)
The wine will be available in a special commemorative edition wooden case of 3 x 75cl.
DOW'S QUINTA DO BOMFIM 2020 VINTAGE PORT
Dow's Quinta do Bomfim 2020 Vintage Port is produced from the high-lying vineyards at the estate, where the Touriga Franca performed particularly well, showing great resilience to the heat of the year. Yields averaged 660g per vine, delivering structured wines with an extraordinary depth of fruit.
This Quinta Vintage Port is made up of Touriga Franca (55%), Touriga Nacional (25%) and a significant proportion of Sousão (20%) for its high natural acidity.
With its concentrated ripe black fruit, balanced by a shaft of acidity and Dow's signature long dry finish, this wine represents the essence of Quinta do Bomfim's unique terroir.
Limited 2022 En Primeur Release: 1,200 bottles (75cl)
The wine will be available in cases of 6x75cl and individual wooden boxes.
---
We have decided to bottle Dow's Quinta da Senhora da Ribeira and Cockburn's Quinta dos Canais 2020 Vintage Ports which will age in our cellars for future release.
We will not bottle Vintage Port from Quinta do Vesúvio because the winery was closed in 2020 due to Covid-19 restrictions. This was the first year since the winery was built in 1827 that no grapes were foot-trodden. Staying true to this tradition, we have decided not to produce a Vesúvio Vintage Port.
GROWTH CYCLE
Our vineyard teams and winemakers are now well accustomed to navigating the challenges of a warmer and drier Douro. It is testament to their skill and our resilient, indigenous grape varieties that such exceptional wines could be produced in an extraordinary year as 2020.
"Grit & Reward" is how we characterised the 2020 harvest at the time, following yet another growth cycle shaped by record weather patterns.
While winter and early spring rainfall were roughly in line with the average, the temperatures were higher than usual. February was particularly warm, with temperatures at least 2°C above than the 30- year average. As a result, the vines emerged from their winter slumber three weeks earlier than usual, with budbreak recorded in the Cima Corgo on March 3rd. Flowering also arrived two weeks earlier than normal, beginning on May 5th. Every month apart from April was considerably warmer than the 30-year trend and the Douro experienced the hottest July on record at 3.5°C above the average for the region.
The vines demonstrated a variety of natural responses to the conditions, including reducing grape bunch and berry sizes, which lessened the demand on the limited soil water reserves. Fortunately, there was around 15mm of well-timed rain across the Douro on August 17th and a drop in temperatures.
HARVEST
Maturations were naturally advanced and in the last 10 days of August it became clear that varieties that usually ripen sequentially, would need to be picked at the same time. Although a small harvest makes it easier to manage the picking schedule, the overlap of grape ripening added a further challenge.
Harvesting began on September 1st and our experienced viticulture & winery teams adapted exceptionally well – ensuring that the varieties came into the wineries at the optimal time. These unusual conditions allowed for co-fermenting grape varieties such as Touriga Nacional and Touriga Franca which produced complex wines. Inevitably yields were incredibly low at 21% below the 10-year average in our vineyards across the Douro – at just 840g per vine, or 2,697 Kg/ha.
The standout varieties were the Touriga Nacional that produced wines with excellent structure, and the Sousão that delivered sharp acidity, which is remarkable given the conditions of the year. Comparable harvests are 2000 and 2009, which were also very hot years with low yields that nonetheless delivered small quantities of intense, well-structured ports.
ASSESSMENT & DECISION
The fact that the Douro's terroir provides such a variety of microclimates is a huge advantage in a year like 2020. It takes a rare constellation of events for quality to be consistently exceptional throughout the region (as in 2011, 2016 and 2017). In 2020, we believe the extraordinary conditions of the year gave rise to some outstanding wines in limited quantities from the Cima Corgo. We have decided to do an exceptional bottling of Graham's and Warre's Vintage Port from their estates in this sub-region to mark two key milestones in 2020 for these two historic port houses and our family.
---
CHARLES SYMINGTON, HEAD WINEMAKER SYMINGTON FAMILY ESTATES