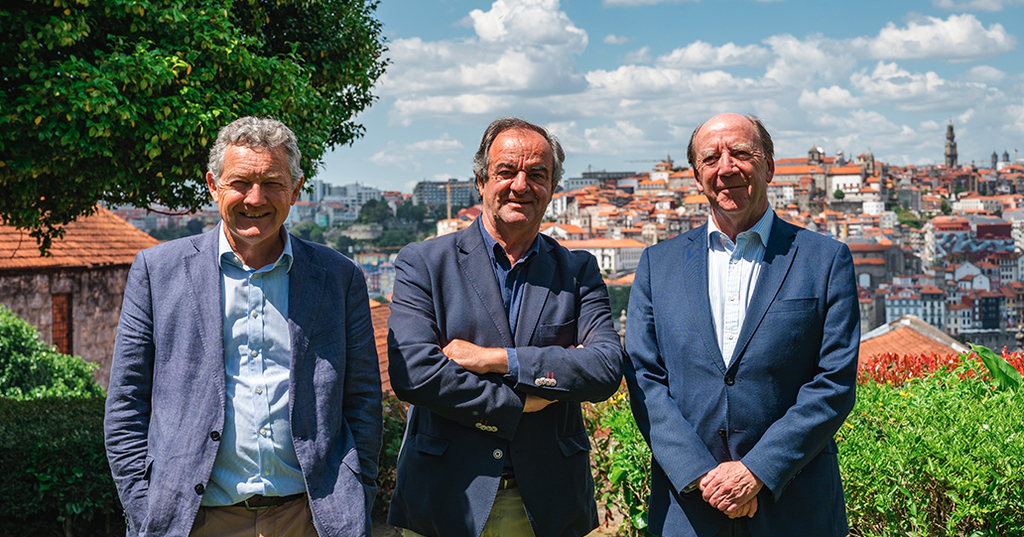 Symington family announce joint venture with Anselmo Mendes
---
It is with great pleasure that our family and the Mendes family announce the decision to strengthen our partnership. Our two families will now work even closer together to develop premium Vinho Verde brands, demonstrating our firm belief in the enormous potential of this unique region.
Our family has recently acquired an estate in the prestigious Monção and Melgaço sub-region of the Vinho Verde DOC in northern Portugal – named Casa de Rodas. We will produce a range of Alvarinho wines from the 27.5 hectare vineyard with legendary Vinho Verde producer Anselmo Mendes as winemaker. Our two families have now decided to create a new company, with equal shareholding, to distribute the wines produced from the property – the first of which will be made this year.
The joint venture will also acquire the renowned Vinho Verde brand, Contacto, produced by Anselmo Mendes. The 100% Alvarinho wine has seen enormous success in Portugal and internationally, and both families believe it has great potential for further development.
Anselmo Mendes commented, "Monção-Melgaço has become one of the world-class white wine-producing regions over the last few years. Being from Monção myself, I am very proud of playing a part in this success. This partnership with the Symington family makes me very pleased because together we will create greater value for our brands and contribute to the wider recognition of Monção-Melgaço wines. Both our families share a passion for our own vineyards and select the best terroirs carefully. My family owns three properties in Monção-Melgaço with a total of 60 hectares planted with Alvarinho, with Quinta da Torre being the largest viticultural area in the region."
Rupert Symington, CEO of Symington Family Estates, commented, "It is with great pleasure that my family strengthens our partnership with the Mendes family. We believe in establishing long-term partnerships with people who share the same vision, values and standards as us and we are proud to be working with Anselmo Mendes and his family. Anselmo has rightly earned his reputation as one of the most accomplished winemakers in Portugal and as a pioneer in the Vinho Verde region. We have great confidence in the future of Vinho Verde and are committed to developing and promoting the wines from the region."
Referring to the Contacto brand, Rupert Symington added, "Contacto is a great example of an excellent Vinho Verde produced entirely from the Alvarinho grape variety. It has good distribution in Portugal and other international markets. We believe that premium Vinho Verde has enormous potential in some key export markets, and we plan to use our international distribution network to help to expand the sales of a wine that we consider to be the most famous premium white wine in Portugal."