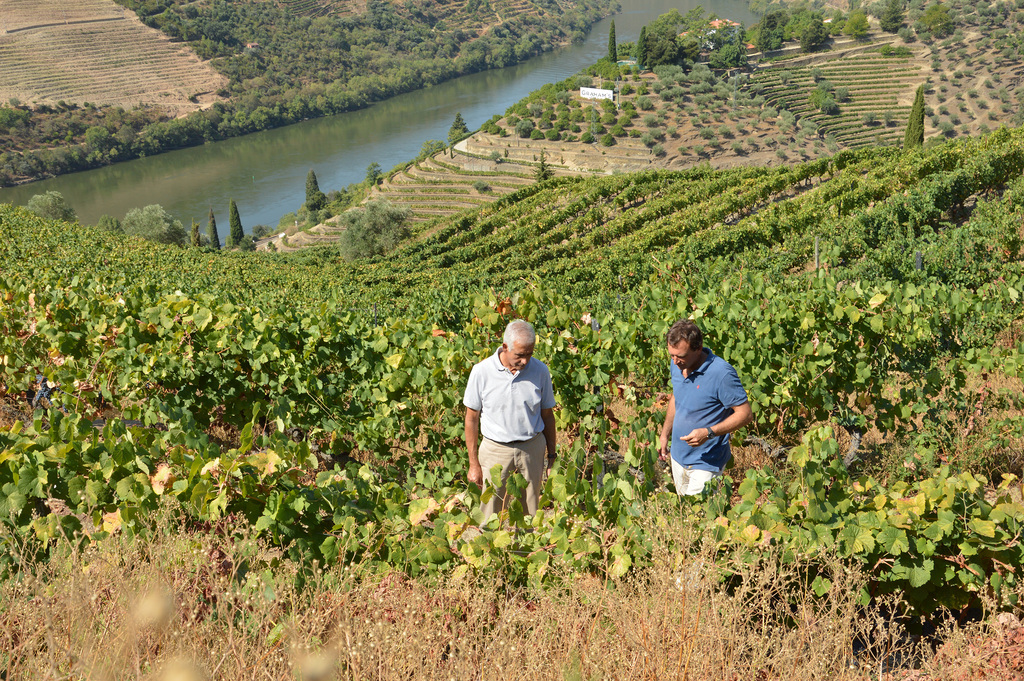 Liveblog: Vintage 2020 progress report
---
Welcome to our liveblog of the 2020 harvest. Over the coming days and weeks we will be posting updates about how the vintage is progressing in the Douro and at Quinta da Fonte Souto in the Alentejo. You can also follow us on Instagram and Twitter for regular news about our progress in the vineyard and winery, as well as first impressions of the year's characteristics and quality.
---
Update: Friday 25th September 2020
As we begin to wind down operations in the Douro, the vintage practically now concluded in most of our quintas, we can allow ourselves a sense of relief and optimism to replace our initial apprehension when picking began in earnest just under a month ago. At Quinta da Fonte Souto in the Alentejo, we will continue picking grapes well into next week.
There were many contradictory signs at the start of the vintage, and this obliged our viticulture and winemaking teams to be extremely focused and draw on their experience and knowledge of our vineyards.
What was obvious from the start was that yields were very low, a result of the very hot and dry summer, which brought about considerable dehydration and an inevitable reduction in the overall crop. Some useful rain in late August provided a bit of respite, but its benefits largely evaporated (literally) given the very high temperatures that persisted into early September.
In virtually all the grape varieties, sugar readings climbed speedily but phenological development wasn't keeping pace due to the absence of water and the heat. The latest ripening variety, the Touriga Franca confounded our viticulturists and winemakers as its development overtook other varieties and had to be picked concurrently, or in some cases before others.
However, as the vintage advanced, our winemakers have gradually become more and more encouraged by the wines and ports being made with incredibly deep colour, good concentration and fine aromas.
Charles Symington and his winemakers across our various specialist wineries are unanimous in their praise of the Touriga Nacional — "the grape variety of excellence in 2020" — whilst also indicating that despite some difficulties, the Touriga Franca from medium to higher altitude parcels has also delivered some very good wines. The Sousão and Alicante Bouschet also performed well in this very atypical harvest.
Photos courtesy of: @francisco_asoares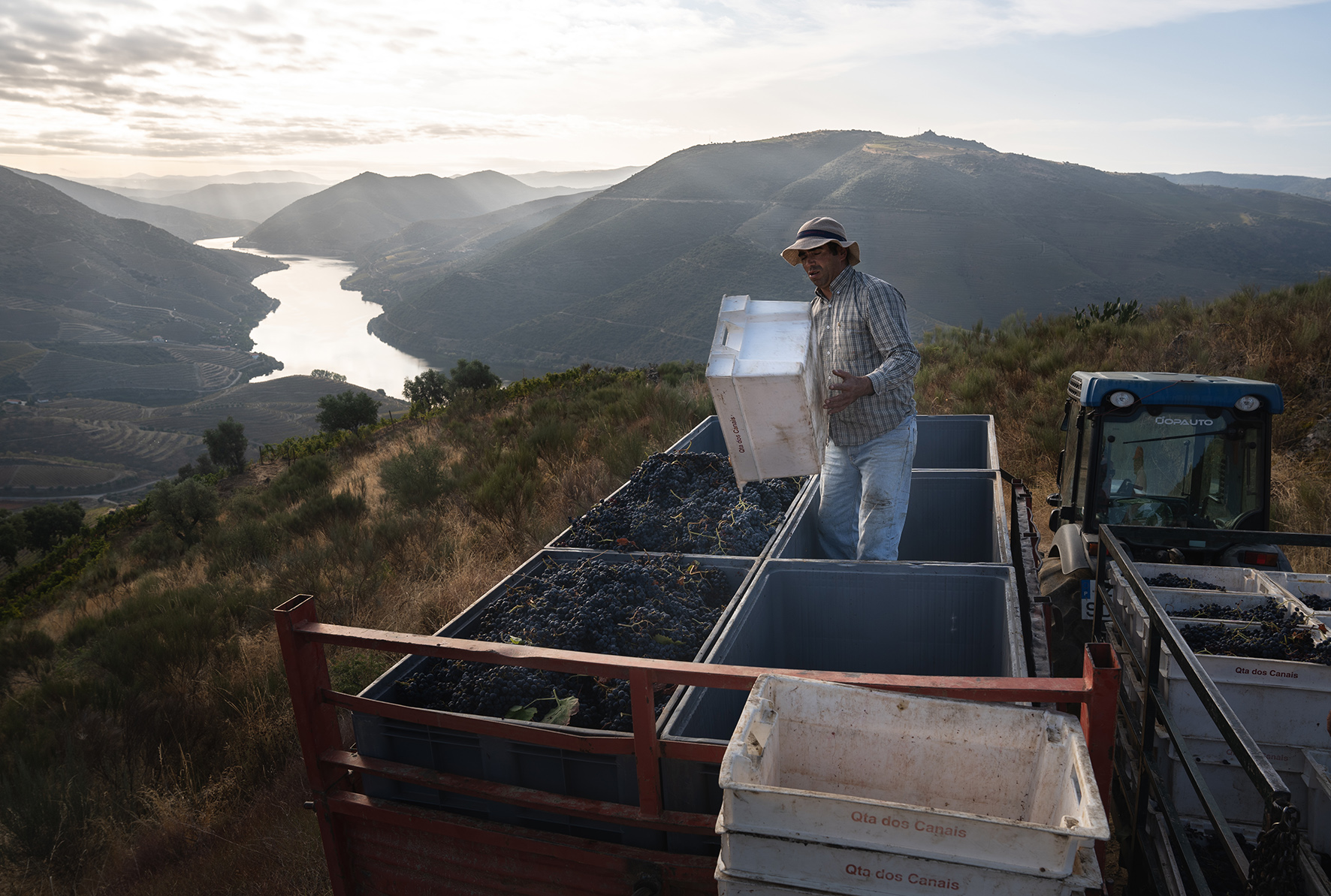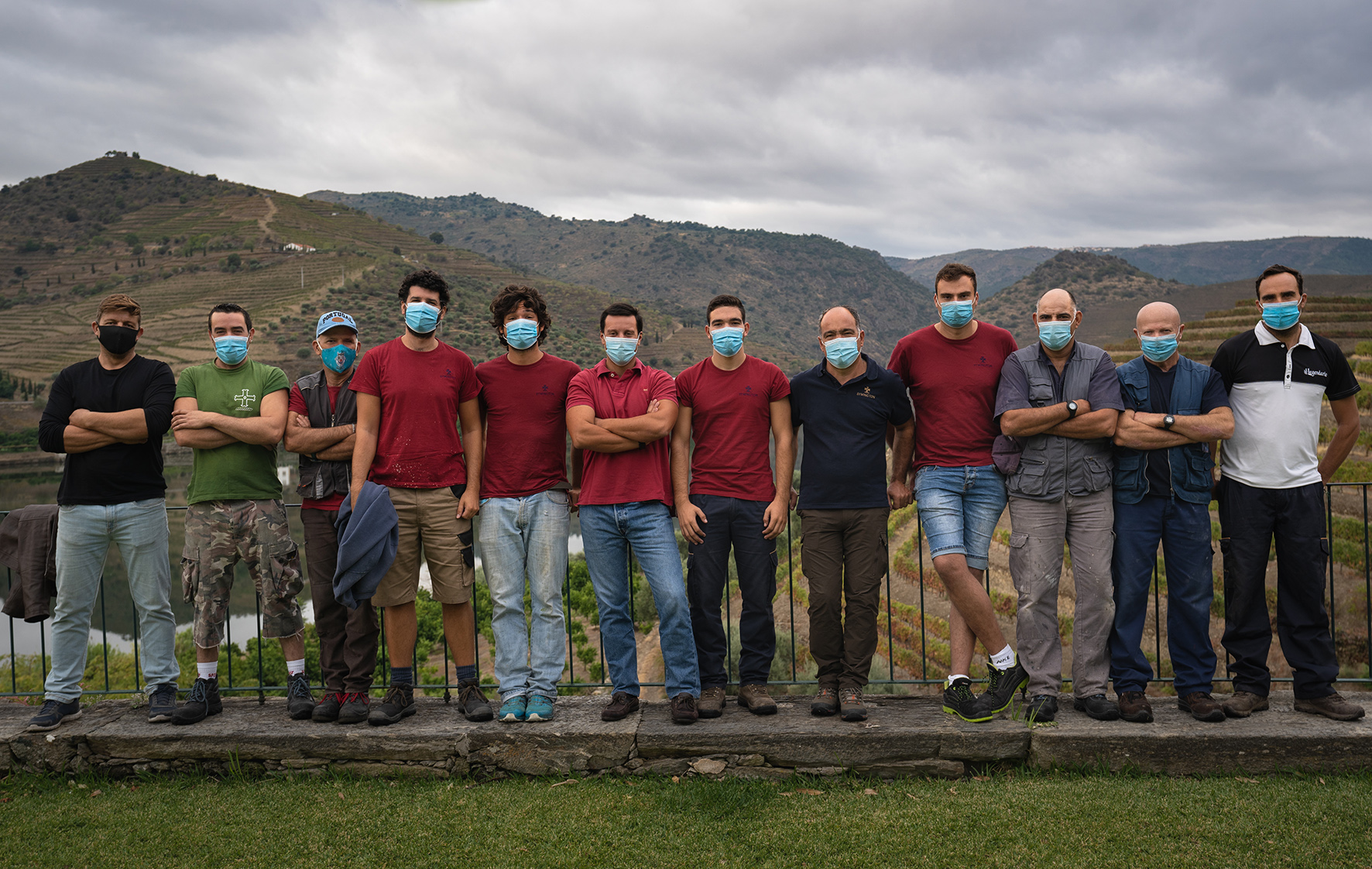 ---
Update: Friday 18th September 2020
We have been making good progress this week, both in the Douro and in the Alentejo. We have picked around 2/3rds of our vineyards and most properties will be finished by the end of next week, making this a remarkably short vintage.
At Quinta dos Malvedos, for instance, we should conclude picking tomorrow (Saturday 19th), meaning the harvest will have lasted less than three weeks — when up to five weeks would be more typical. As previously reported, yields are low: 400g/vine at Quinta do Tua (around 1500Kg/hectare) and 600g/vine at Quinta dos Malvedos.
The upside of these very low yields is that we are making some very concentrated and dark wines. The first impressions are that - whilst this might not be a blockbuster year in the Douro - some promising wines and ports are being made.
Conditions have remained exceptionally hot, and only today have temperatures finally dropped to more typical levels as conditions turn to stormy and wet weather. Some rain is expected over the next 24 hours, and we can only hope it is not excessive as that would not provide any benefit at this stage.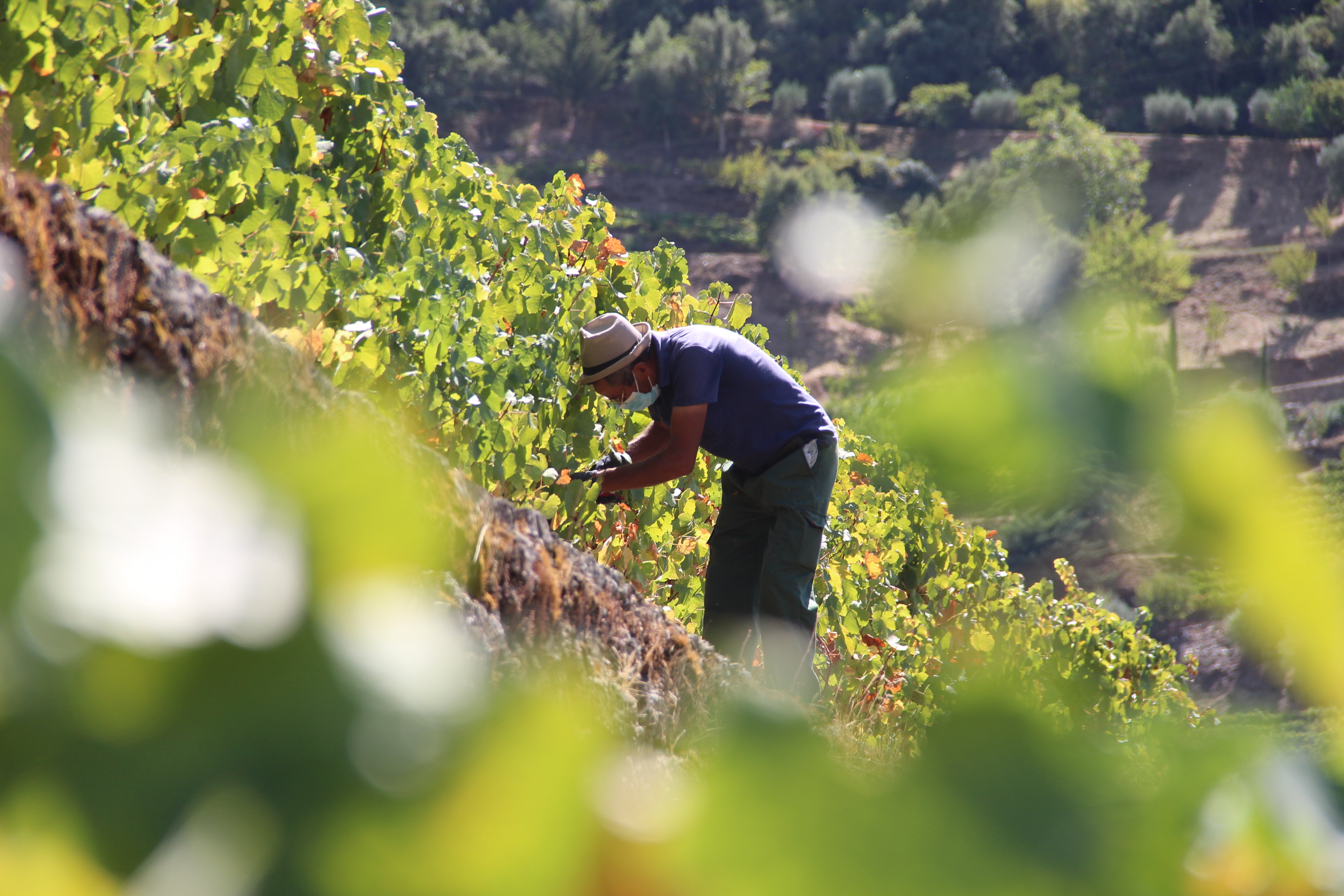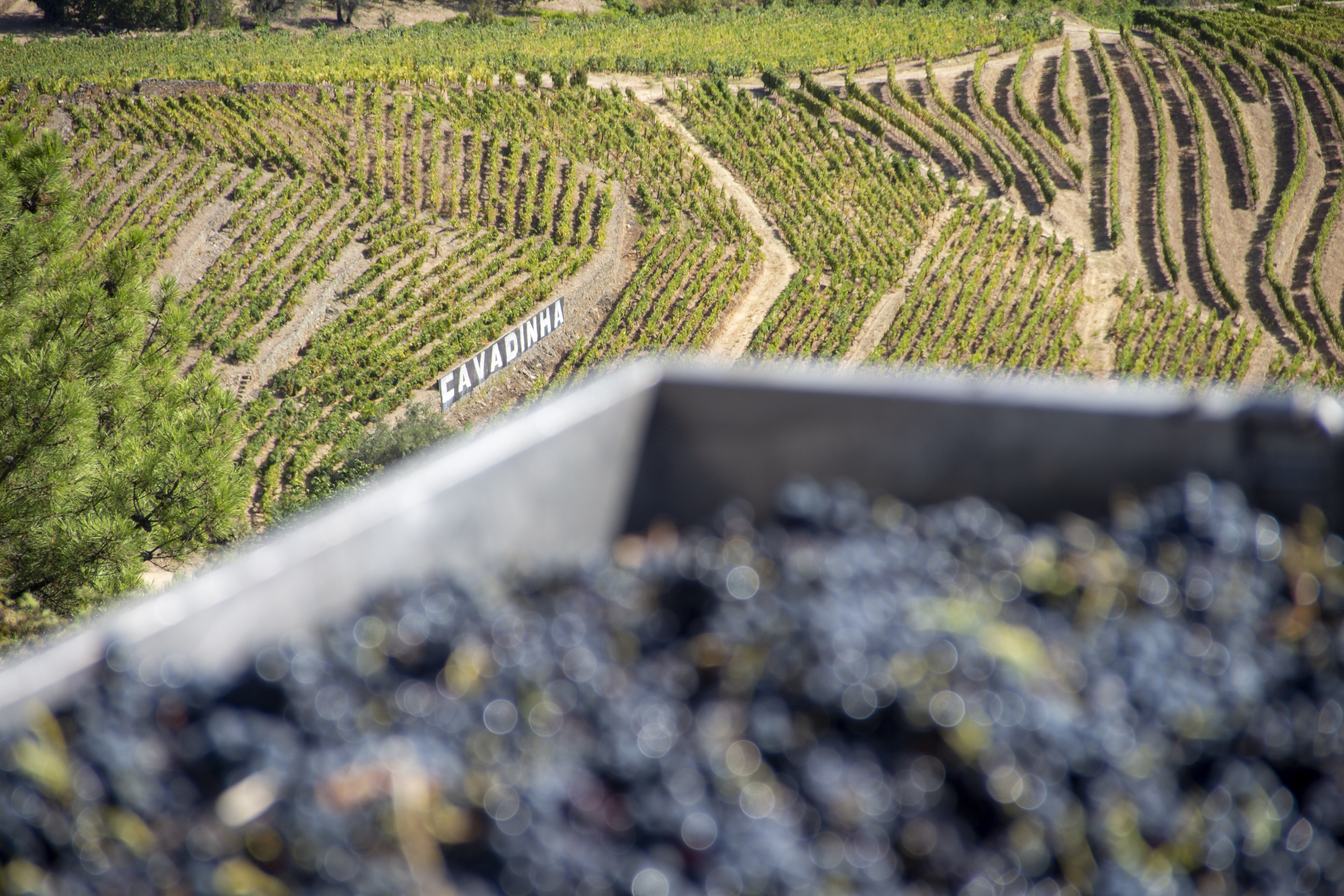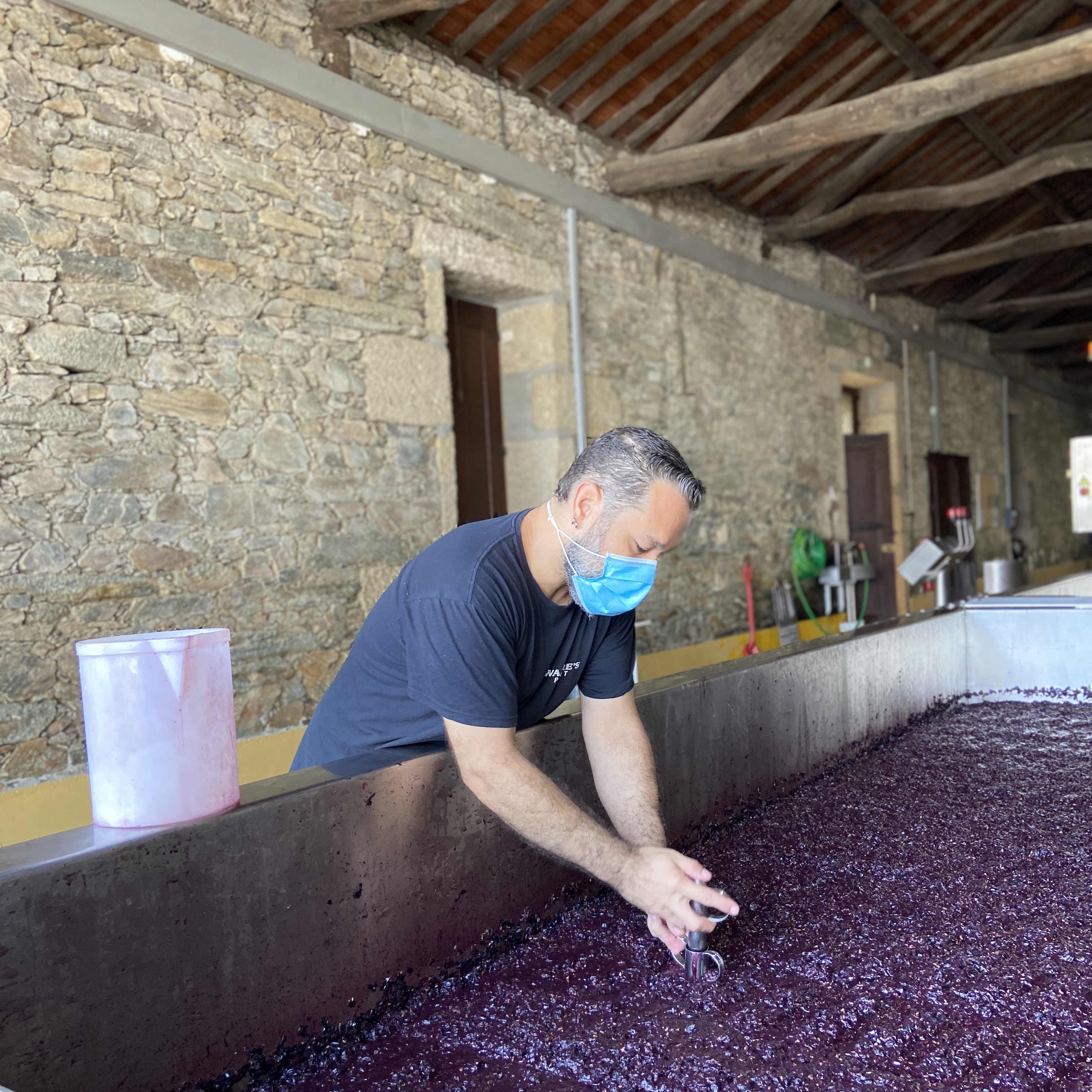 ---
Update: Friday 11th September 2020
Besides a very early vintage, this is also proving to be a fast-paced one. Some of our quintas will finish picking several weeks ahead of normal. The prevailing hot and dry conditions have brought yields right down, so overall there is less to be picked. At Quinta do Ataíde, in the Vilariça Valley, we expect to harvest 40% less than originally forecast.
The different grape varieties in the Douro have different maturation and ripening cycles, which is ideal for us in that we can receive a steady supply of grapes into the wineries. Logistically and from a winemaking point of view this is ideal, allowing us to vinify the grapes over well-paced stages without unduly overburdening the vineyard picking teams and the wineries. This year, however, given the very advanced ripening of most grape varieties, including the Touriga Franca (sometimes picked as late as the first couple of weeks of October), there is a great deal of overlap and in many cases, we are processing many grape varieties at the same time.
Charles Symington has compared this vintage to 2009 and 2012 – years which had periods of great heat and very little water, resulting in pockets of considerable berry dehydration. The rain we had in late August was quite generous in some parts of the Douro but the very high temperatures that quickly ensued made its beneficial effect short-lived. Even so, and despite these challenges (as was also the case in 2009 and 2012) we are making some very good ports and wines, both white and red, although inevitably in smaller quantities.
Earlier this week, we opened all our remaining specialist lagar wineries at Cavadinha, Malvedos and Senhora da Ribeira, joining the Bomfim lagar winery, which opened the previous week. Through this week we have continued to bring in the Touriga Nacional, and in some cases, we have had to bring forward the picking of the Touriga Franca, harvested alongside other varieties such as the Nacional, Sousão and the Tinta Amarela — which is almost unheard of.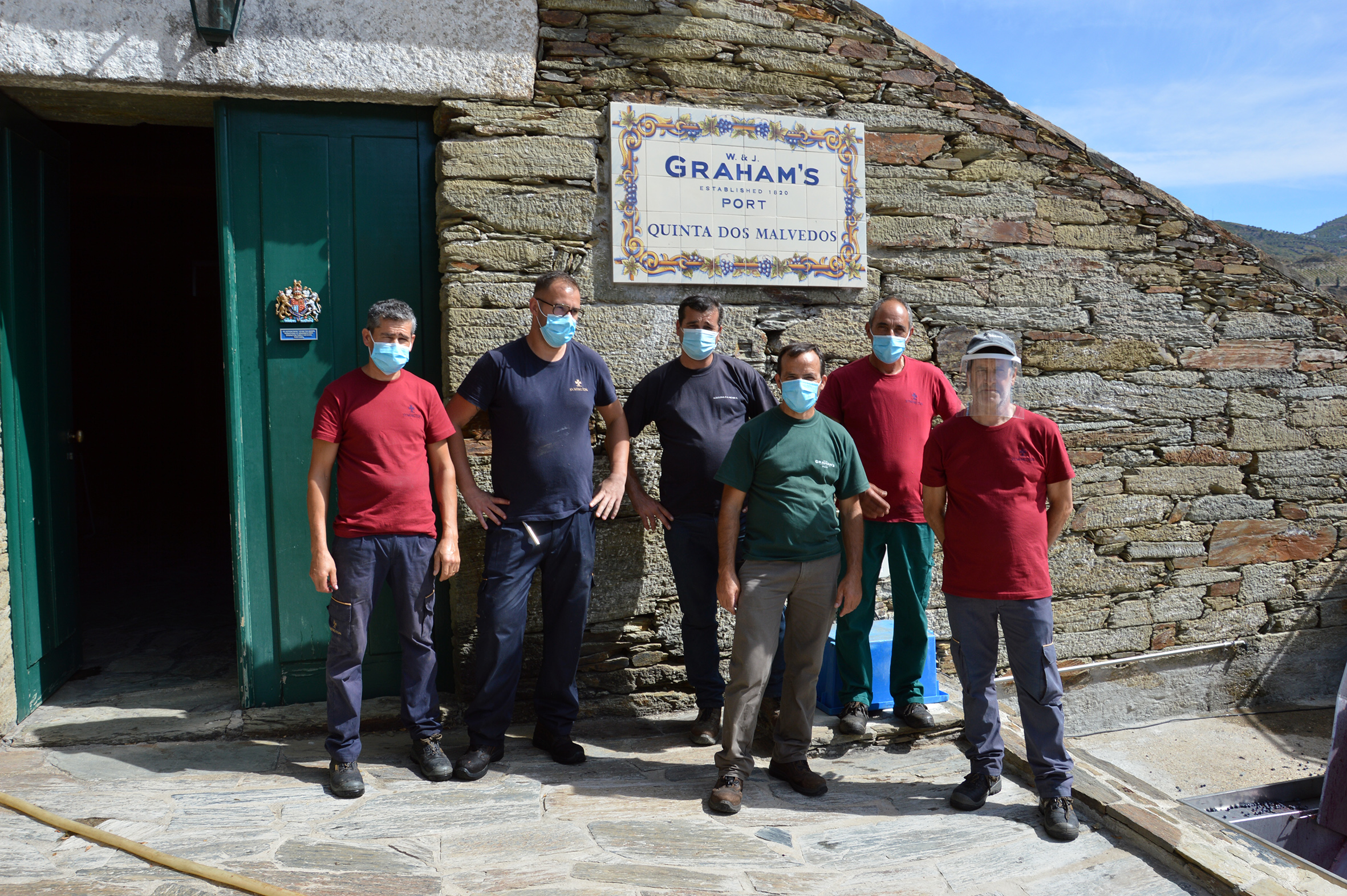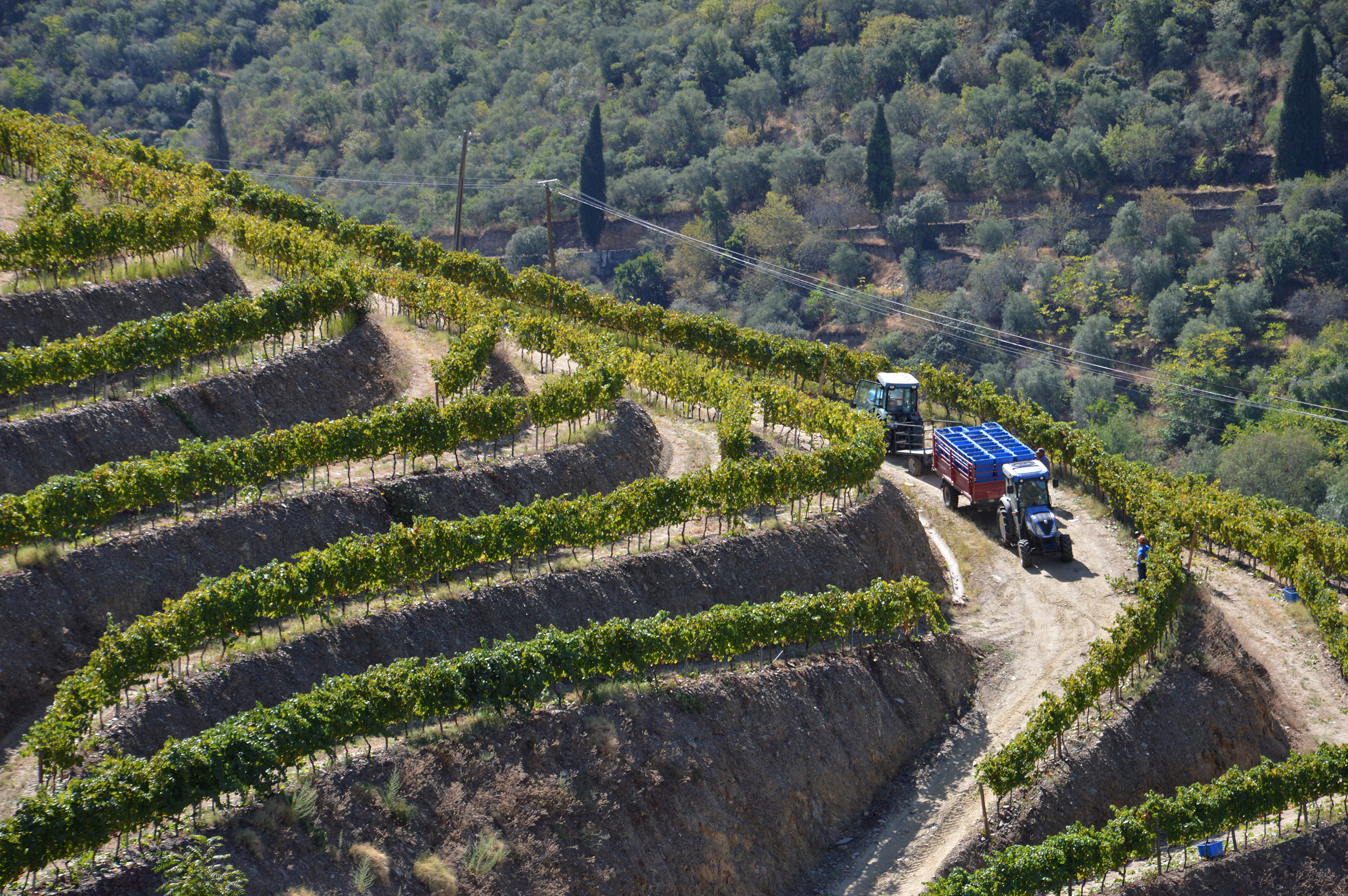 ---
Update: Friday 4th September 2020
Our vintage in the Douro is steadily gathering pace, and besides the first red grapes picked late last week at Quinta do Ataíde, we also started this week harvesting the earlier ripening red varieties, principally the Alicante Bouschet, Tinta Amarela and Tinta Barroca at Quinta dos Canais, Quinta dos Malvedos, Quinta do Tua and Quinta do Vesúvio. All remaining quintas will start picking from September 7th.
Soil moisture readings taken at Quinta do Bomfim show that water availability is similar to the comparable period in 2017, although a little below the same period last year. The rain that fell between August 18th and 20th has stood us in good stead in this regard.
This year, due to the extraordinary circumstances felt the world over, we have put in place robust measures in our Douro (and Alentejo) vineyards and wineries. The safety of our pickers and other field staff and of our winemaking teams in the wineries is uppermost in our minds. Besides the overriding concern of keeping our people safe and healthy, we only get one shot a year at getting our grapes into the wineries and making our wines, so we have to ensure we get it right.
Access to all our wineries is restricted and even colleagues from other departments of the company can only travel to our vineyards if they have a very good reason to do so. All members of the various winery teams have been tested for the virus before travelling to our facilities across the Douro Valley and a multitude of other measures are in place, such as the mandatory use of masks, staggered meal shifts in the canteens to ensure social distancing, carefully prepared accommodation, etc.
Perhaps the most visible result of these comprehensive measures is the absence of foot treading in the lagares at Quinta do Vesúvio this year. This will be one of the very few times since the imposing winery was built in 1827 that people will not be treading there. Previous to this, we believe that there have been only one or two years during the 1870s/1880s when treading didn't happen due to the devastation wrought by phylloxera. Conditions permitting, traditional treading will return to Quinta do Vesúvio next year. Meanwhile, the grapes will be taken to one of our small specialist wineries where they will be trodden mechanically in the modern lagares, which have more than proven their worth over the last two decades.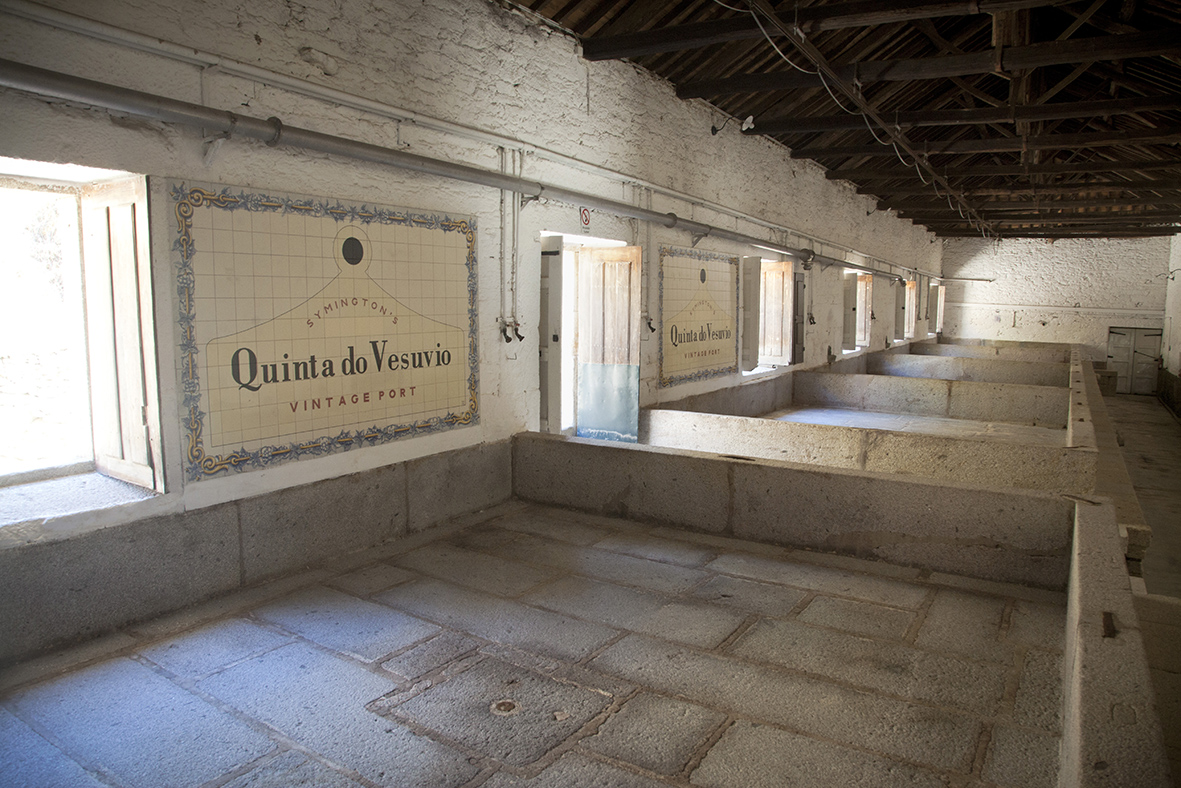 ---
Update: Thursday 27th August 2020
This week we picked our first grapes of the 2020 harvest in the Douro, namely white Viosinho, pictured below, and Rabigato grapes, from the Quinta das Netas (Cima Corgo) and Quinta do Ataíde (Douro Superior) vineyards, respectively. These will be followed by the first red grapes of the vintage — Alicante Bouschet from Quinta da Macieira, one of our organically farmed vineyards in the Vilariça Valley (Douro Superior). This is only the second time that we have picked red grapes in the Douro in August (the first time was in 2017).
The generous rain that we had a week ago in much of the Douro really has made a difference and could not have been better timed, helping to mitigate the very dry and hot conditions felt during June and July as well as the first half of August. Although temperatures have gradually risen again to the upper 30s degrees Celsius, the forecast is for them to come down over the weekend and remain in the lower 30s Celsius over the next couple of weeks.
The condition of the Touriga Nacional is very promising and should give structured wines with good colour. Charles Symington says it's looking like it will be a "Nacional year." Unsurprisingly given the challenging conditions, acidity levels are showing a little low. The Alicante Bouschet and Touriga Franca are straining a little but the lower temperatures forecasted should help. Baumés are generally between 11-12° at this point.
Considering the current situation with no rain forecast, next week we will start to pick at south-facing properties in the Douro Superior, as well as at Quinta dos Malvedos and Quinta do Tua. Shortly after we will start picking at our other Cima Corgo quintas and at Quinta do Vesúvio.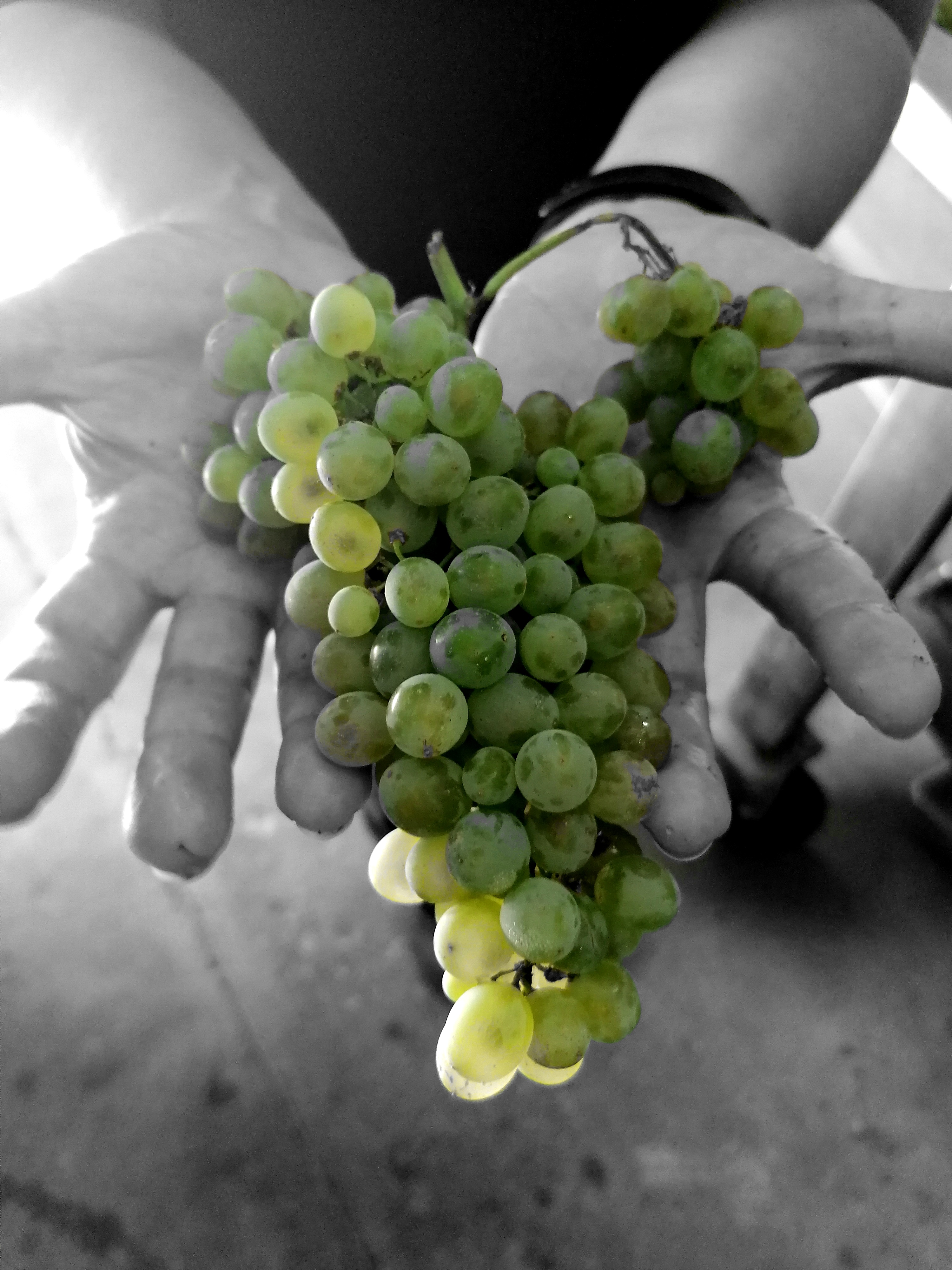 ---
Update: Friday 21st August 2020
Douro:
The rain forecast by the Portuguese Met office for the Douro arrived right on cue yesterday. All our weather stations across the Douro recorded generous (but not excessive) rainfall. We had fractionally more rain yesterday than the 30-year average for the month of August as a whole. At Quinta do Ataíde in the Douro Superior, double the monthly average came down (17.2 mm, when the average for the month is 8.8 mm).
The rain fell just the way we wanted it to — evenly and gradually over a few hours, rather than in sudden downpours. This way the precious water seeps slowly into the parched soil and provides much needed sustenance for the vines. We are very encouraged that this beautifully timed rain will have a positive impact on the final ripening stage. In tandem with the rain, we've had more moderate temperatures this week which will also have a positive effect, helping to preserve good levels of acidity.
The forecast for the coming week is for clear skies and gradually rising temperatures — perfect conditions for achieving balanced maturations. To extract the maximum benefit, we have decided to slightly delay our vintage start to the first week of September. We will start picking our first white grapes of the vintage in the Douro, as scheduled, next week.
Alentejo:
Meanwhile, we have started harvesting our very first grapes of the 2020 vintage at Quinta da Fonte Souto, our Alentejo estate in the Portalegre sub-region. The first white grapes (Verdelho - see image below) were picked on Wednesday 19th August and the first impressions are very good. Our winemaker at Fonte Souto, José Daniel Soares reports: "The Verdelho reached us with amazing freshness and balance. The musts show beautiful fruit and liveliness. The gifts of altitude!" José Daniel indicated that the red grapes aren't quite ready, and we will only start picking those during the first week of September.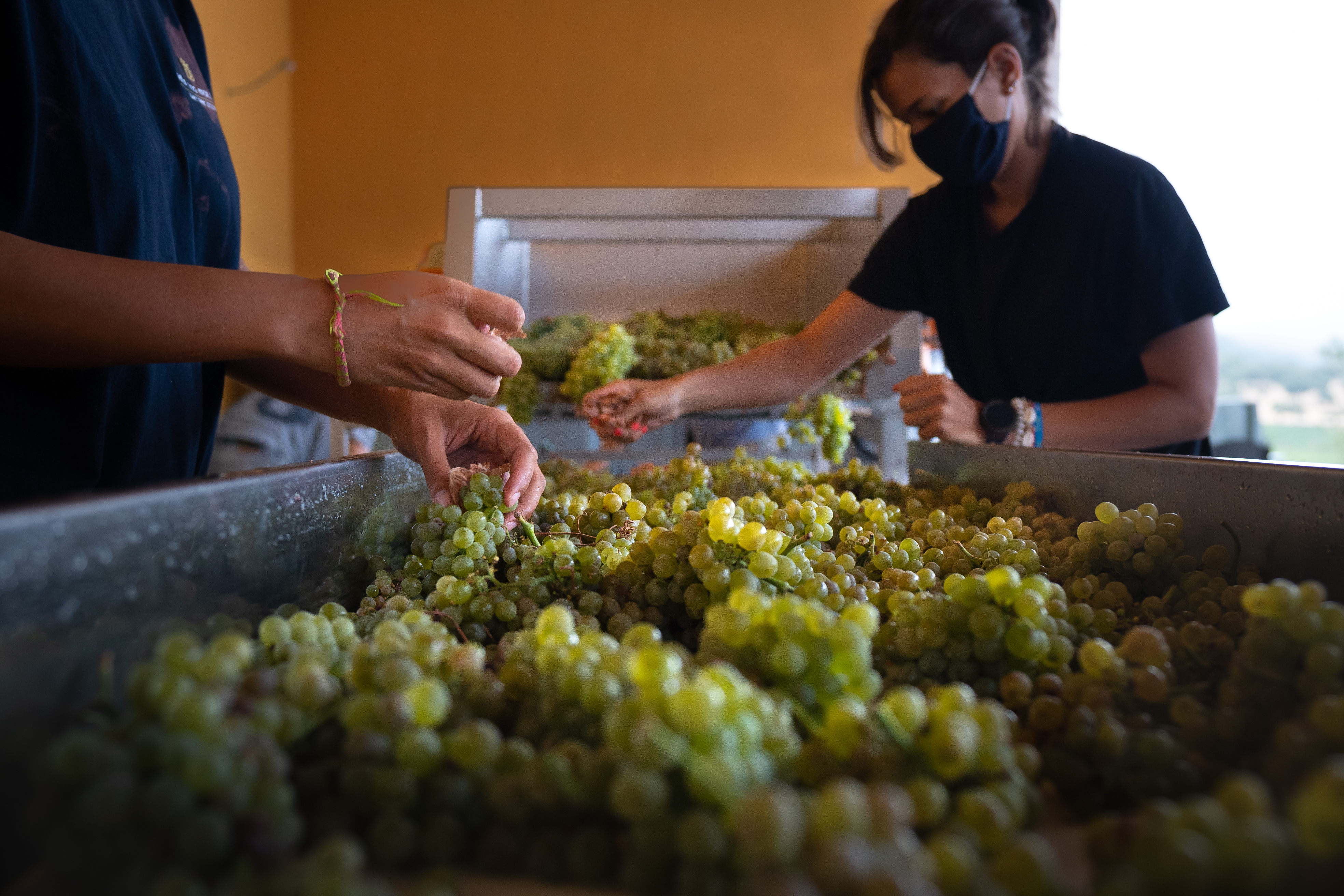 ---
Update: Wednesday 19th August 2020
This week Charles Symington and his viticulture team are doing their rounds, conducting appraisals of the vines and berries. The growth cycle is very advanced, and we are looking at an early harvest (in line with what happened in 2017). It is likely that we will start picking white grapes from our higher vineyards next week and red grapes soon after, but we are awaiting final confirmation.
The very hot and dry conditions experienced in the Douro during June and July continued into the first ten days of August. On various days in August the Portuguese Met Office station in Pinhão recorded the highest maximum temperatures in the national network (36.4°C on 11th August). Fortunately, temperatures have since dropped and some light showers have fallen this week. Further rain is forecast tomorrow. If this is the right sort of rain (falling evenly and gradually rather than in sudden downpours – and passing before we begin picking) it will be very welcome, providing the vines with a welcome respite and an important boost for the final phase of maturation.
Some of the best vintages in the Douro are preceded by generous bursts of rain in late August.
Fingers crossed.
---
Update: Friday 31st July 2020
This year's growth cycle in the vineyards continues to be very precocious, having started three weeks earlier than normal with budbreak recorded as early as March 3rd. This advanced pace was maintained during flowering (two weeks early) and more recently the 'pintor' (veraison) which began 10 days ahead of average (almost in line with 2017, where the growth cycle was also very advanced throughout).
Conditions in the Douro in June and July have been exceptionally dry and the latter was the hottest July of the last 40 years, with temperatures 3.5°C above the monthly average. On several days, temperatures climbed above 40°C. This has put the vines under considerable strain in west and south-facing vineyard parcels, particularly in the Douro Superior. There was virtually no rain to speak of in June or July (1mm and 2.6mm, respectively at Quinta do Bomfim).
We have now completed our bunch counts and these are 6% below average. Soil humidity levels throughout June dropped significantly. Considering these factors, it is very likely that we will have a below average size vintage with low yields.
The vineyard cycle is currently a fraction ahead of 2017, figures suggesting a very early vintage. Based on field studies at our Quinta do Ataíde Grape Variety Library, the Touriga Nacional recorded veraison 6 days earlier than in 2017 and most other grape varieties are similarly advanced in their maturation cycles. The cycle may be slowed a little as a result of the low soil humidity levels. However, unless some welcome rain is forthcoming, along with more moderate temperatures (both unlikely) everything at this stage is pointing to a very early vintage, probably starting (as in 2017) during the last week of August).