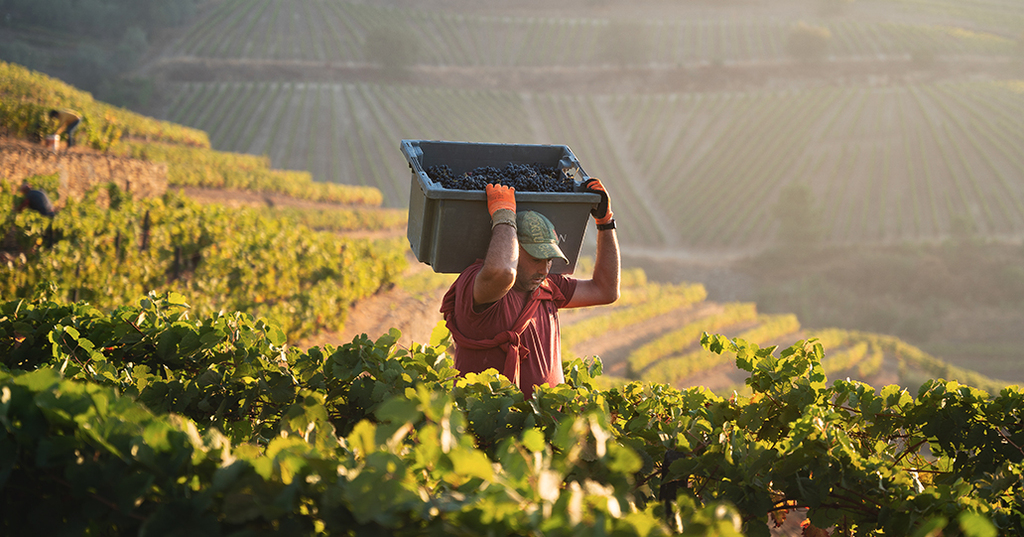 2022 Douro Harvest Report - The Fruits of Struggle
---
The Fruits of Struggle
2022 Douro Harvest Report
As our harvest preparations began, we knew that we were facing unprecedented conditions in the Douro. The three months before the vintage were among the hottest and driest ever recorded and, according to the Portuguese Met Office, the country had been in severe drought since the winter.
Over the last few years, we have grown accustomed to breaking records; from the earliest harvest in 2017, to the wettest spring in 2018, and the lowest yields in 2020. With rising average temperatures, increasingly erratic and declining rainfall, and more frequent and more intense summer heatwaves, the impact of the climate crisis is very real in the Douro.
On the eve of the 2022 harvest, we faced some of the greatest challenges that our family has seen. While we have multi-generational knowledge of farming our vineyards, the conditions this year were so extraordinary that nobody knew how the vines would react.
Unknown territory
Between November 2021 and August 2022, Quinta do Bomfim in the heart of the Douro recorded just 170mm of rain. This was a -70% reduction compared to the 30-year average and is the fourth consecutive year of below average rainfall in our region: 2021 (-29%), 2020 (-30%), 2019 (-22%).
The dry soils were exacerbated by higher-than-average temperatures. Summer heatwaves are defined by six consecutive days of temperatures +5°C above the seasonal average. This year they were longer than usual and reached higher maximums. June saw a heatwave lasting seven days in the Cima Corgo, and nine days in the Douro Superior. Portugal had the hottest July since 1931. Pinhão recorded the highest ever temperature in the country at an extraordinary 47°C. We had a very long July heatwave lasting 15 days – with nine days above 40°C. We then faced a further two heatwaves in August.
The impact on the vines was significant and the bunches and berries were smaller than usual. We braced ourselves for one of the earliest, shortest, and smallest harvests ever. The chart below shows quite how extraordinary the 2022 viticultural year has been in terms of temperature and rainfall.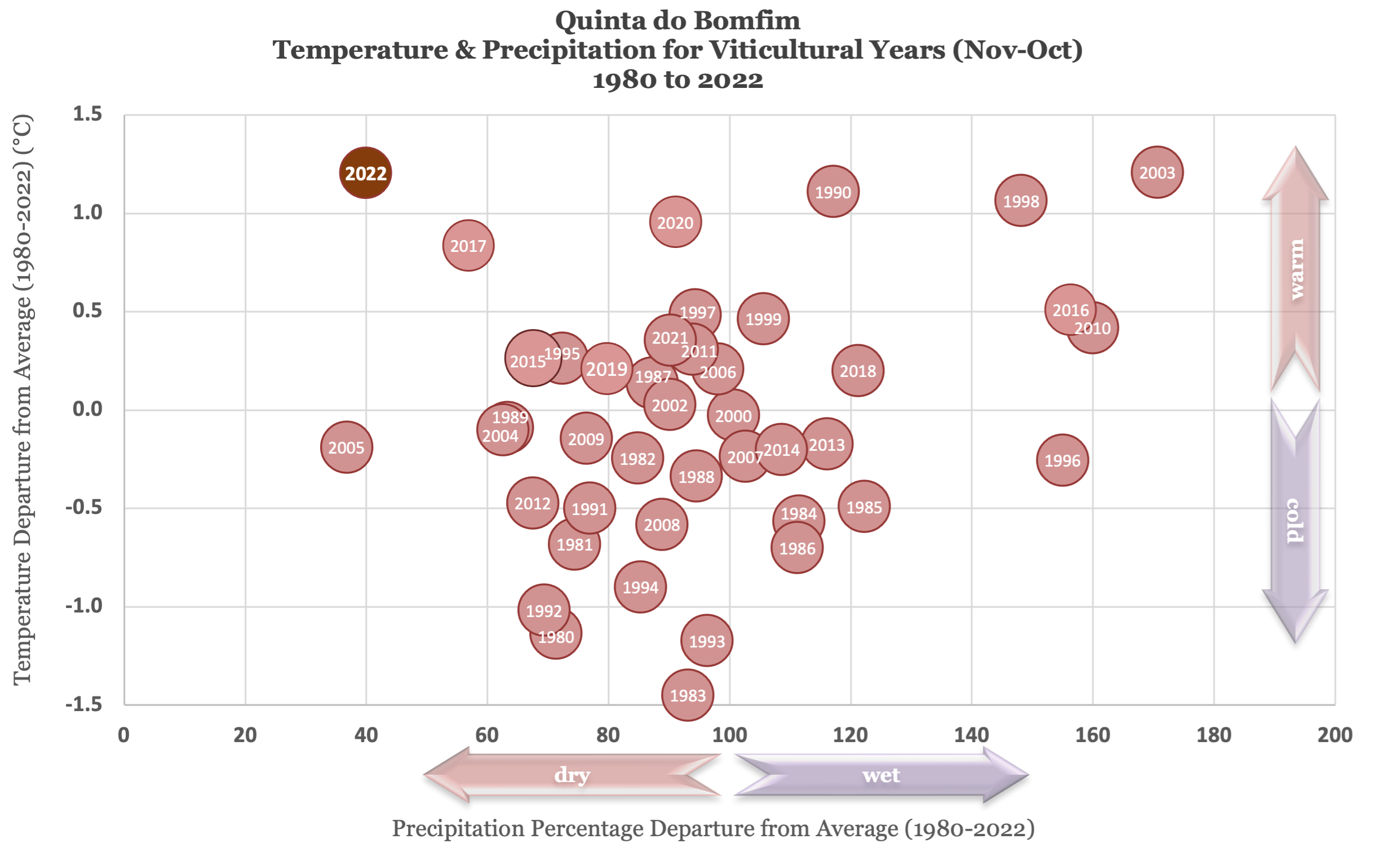 Our earliest ever harvest
August maturation studies showed low sugar readings and acidity levels due to the drought. However, phenolic ripeness was advanced, and the thin skins of the Touriga Nacional and Touriga Franca suggested we could produce wines with good structure. Given that the hot and dry weather was forecast to continue, we decided to start picking in the Douro Superior on 22nd August, including Graham's Vale de Malhadas, Cockburn's Quinta dos Canais, and Dow's Senhora da Ribeira. This was the earliest we have ever picked grapes in the Douro. On 29th August we started at our Cima Corgo estates, including Graham's Quinta dos Malvedos, Dow's Quinta do Bomfim, and Warre's Quinta da Cavadinha.
Traditional foot-treading started in the granite lagares at Quinta do Vesúvio on 29th August after a two-year hiatus due to covid. Never in the history of this great estate has treading started in the winery (dating back to 1827) in August.
We started with the earlier-ripening varieties in our lower-lying vineyards: Alicante Bouschet, Tinta Amarela, Sousão, Tinta Barroca, and our old vines. While acidity levels were low, the lagares had good colour. We have 131 hectares of very old vines scattered across our estates. Their deep roots allow them to find humidity to ripen their grapes and most appeared to have hardly noticed the drought. Yields from these old vines were very low as usual, but they were much less impacted than our younger vineyards.
As we progressed, there were indications that if we continued to pick with precision in order to select grapes in the best possible condition, we could produce some good wines, but in very low quantities.
The turning point
Our outlook changed in the first week of September when average daytime temperatures thankfully dropped to between 22°C and 25°C. This allowed maturations to progress more evenly and gradually.
The indigenous Douro grape varieties showed their characteristic resilience and adapted by producing bunches that were 10 to 15% lighter than average. Yields were not as dramatically low as we had feared and higher-lying plots – from 350 to 580 metres – performed well. Higher altitudes mean cooler temperatures (an advantage of farming in the world's largest mountain vineyard area). Our white grapes performed well with production -8% below 2021 but with sugar levels and acidities near ideal.
We picked half of our Touriga Nacional between the 5th and 11th September. This variety is pivotal to the year's outcome and we were relieved by how well it performed, producing good wines with deep colour and moderate Baumés (12°-13°). By 11th September, we had picked 60% of our grapes. Aside from the remaining plots of Nacional, we still had to pick all our Touriga Franca, which had not yet fully ripened. The cooler temperatures improved our fortunes, but it was the rain that really changed the game.
The longest break
Given the rain was only forecast for a few days, on 9th September we took the decision to stop harvesting for 10 days – the longest duration we have ever paused picking. This was a risk worth taking if we were to make the best possible wines this year. We had between 30 and 42mm of rain across our properties between the 12th and 15th September. This was followed by a gradual rise in temperature – which was ideal for the final stage of ripening for the Francas and the remaining Nacional.
We restarted on the 19th and were pleased with the final plots of Touriga Nacional. The Touriga Franca in the Cima Corgo delivered well-ripened fruit with fermentations above 13° Baumé and excellent colour. Performance in the Douro Superior was more inconsistent. While some plots of Franca delivered lovely, lifted wines, maturations in others did not progress as well as we had hoped.
Our viticulture and winery teams worked flat out through one of the most challenging Douro harvests and we have made some very promising wines despite the astonishing conditions. Overall, our yields per vine were 20% below average, much better than we had anticipated in August. The 2022 harvest will be remembered as the year the conditions tested the resilience of our vines to the limit and our ability to adapt to a new reality. This year showed us that our vines can still perform well with much less water and higher temperatures than we ever imagined. I am astonished how the vines performed, and proud of how our viticultural and winemaking teams responded to the challenge. It gives me confidence in our ability to navigate a future with more harvests like 2022. Our best wines from this year have lifted aromas with good colour, and I look forward to assessing them over the coming months.
Looking ahead
We expect to see further challenging years in the Douro due to increasing levels of climate change. The trend is for an increase in average temperatures, less rainfall, and more frequent heatwaves (see charts in appendix). Seven of the last ten years have seen rainfall well below the 30-year average, while average growing season temperatures have increased by +2.3% from 1966 to 2021.
Although our varieties have proven to be incredibly resilient and the Douro's mountainous terroir provides a variety of microclimates, we need to see a far more ambitious reduction in global CO2 emissions this decade. We have been preparing for climate change for many years by investing in a wide-ranging research and development programme in the vineyard. As members of International Wineries for Climate Action, we have committed to conducting annual audited end-to-end carbon footprints whilst working to reduce our emissions in line with the UN's science-based targets.
Charles Symington
Head Winemaker
Quinta do Bomfim, Douro Valley, Portugal
Appendix
Quinta do Bomfim: Monthly rainfall from November 2021 to September 2022 vs. the 30-year average.