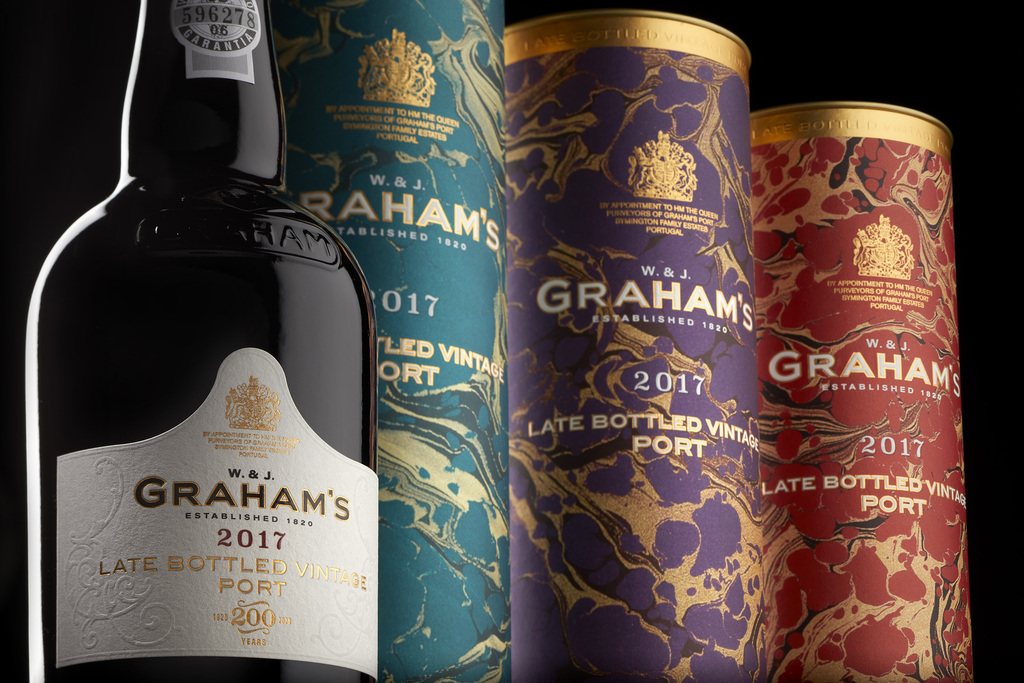 Graham's Launches 2017 LBV with New Tubes
---
Graham's Port has launched its 2017 Late Bottled Vintage (LBV) in three new brightly coloured tubes. Presented in burnt orange, deep purple, and Graham green, the unique tubes are created using handmade marbled paper which is submerged in paint to achieve beautiful patterns and textures. The front and back labels of the bottle are adorned with beautifully embossed detail inspired by a combination of Porto's wrought iron balconies and traditional Portuguese tiles (azulejos) to evoke memories of Porto's charming streets.
First presented in 2020 as a celebration of Graham's Bicentenary with the commemorative 2015 LBV, the tubes and creative process were inspired by the skill and attention to detail required to produce wines of consistent quality. Presented in deep red, royal blue and ochre, the commemorative edition tubes added a splash of vibrant colour to the port category and proved to be incredibly popular.
Graham's is now launching new editions for the release of its 2017 LBV to mark the fact the wine was produced in a declared classic Vintage Port year. 2017 was a year characterised by intense and concentrated wines following an incredibly hot and dry growing season. Such was the quality, that Graham's decided to bottle a 2017 Vintage Port. Select parcels from across Graham's four estates were also set aside to age for up to 6 years in seasoned oak vats to produce a Late Bottled Vintage Port from the same harvest. With floral aromas and ripe black fruit flavours, the 2017 LBV has a perfect balance between complexity and elegance. The wine has been filtered of its natural sediment before bottling (unlike Vintage Port), meaning there is no need to decant before serving. It pairs beautifully with dark chocolate desserts or cheese.
These new vibrant colours will accompany the next LBV releases until Graham's next classic Vintage Port declaration – at which point Graham's will introduce new lively editions of the tubes.
"We are very proud of the incredibly positive response to Graham's 2015 Late Bottled Vintage Port over the last two years. We believe these beautiful tubes have brought vibrancy to the port category – appealing to both existing port drinkers, and the new generation that we have seen emerging. Graham's LBVs are stunning wines, and we are very pleased to see such a growing interest in them."
– Vicky Symington, 5th generation of the Symington family and Graham's Brand Marketing Manager