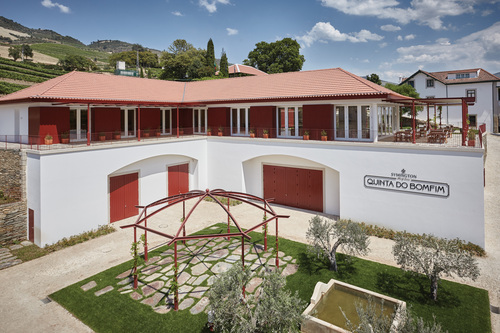 The 'Great Wine Capitals' association, that groups together nine major wine cities* from around the world, has awarded the 2017 'Global Winner Wine Tourism Services' to the new visitor facility at the Symington family's Quinta do Bomfim.
Bomfim had already won the regional award for 2017, but at a ceremony held in the city of Porto on 10th November, it was nominated 'Global Winner', having been selected from amongst a strong list of candidates from around the world.
Quinta do Bomfim is a 76-hectare vineyard located near the village of Pinhão in the Alto Douro region of northern Portugal. Originally acquired by Dow's in 1896, the estate was opened to visitors in May 2015, offering a tour of the winery and the magnificent old vat cellar followed by tastings. Self-guided vineyard walks and picnics are also available.
Quinta do Bomfim has been owned by the Symington family since 1912 and is the birthplace of some of the regions greatest Vintage Ports, including the legendary Dow's 2007; the only Port made this century to have been awarded a coveted 100 Points by Wine Spectator, as well as the Dow's 2011 Vintage Port, classified as No 1 wine in the world in 2014 by the same publication.
The Symington family said; 'We are delighted that Bomfim has won this important award. For years we have been waiting for visitors to finally discover the incredible beauty of the Douro and now it is happening, bringing new opportunities for our wines and for the people of our region'.
Paul Symington, 11th November
*Adelaide, Bilbao, Bordeaux, Cape Town, Mainz, Mendoza, Porto, San Francisco and Valparaiso.